PERFORATOR
Perfect handling of perforating and scoring!
Wide application from the thinnest stock, the stock with full carbon coverage up to the thick chip board. Perfect performance of micro-cut, timing perf, half depth slit, cross perf, score, cut, separate, fold and numbering is obtained.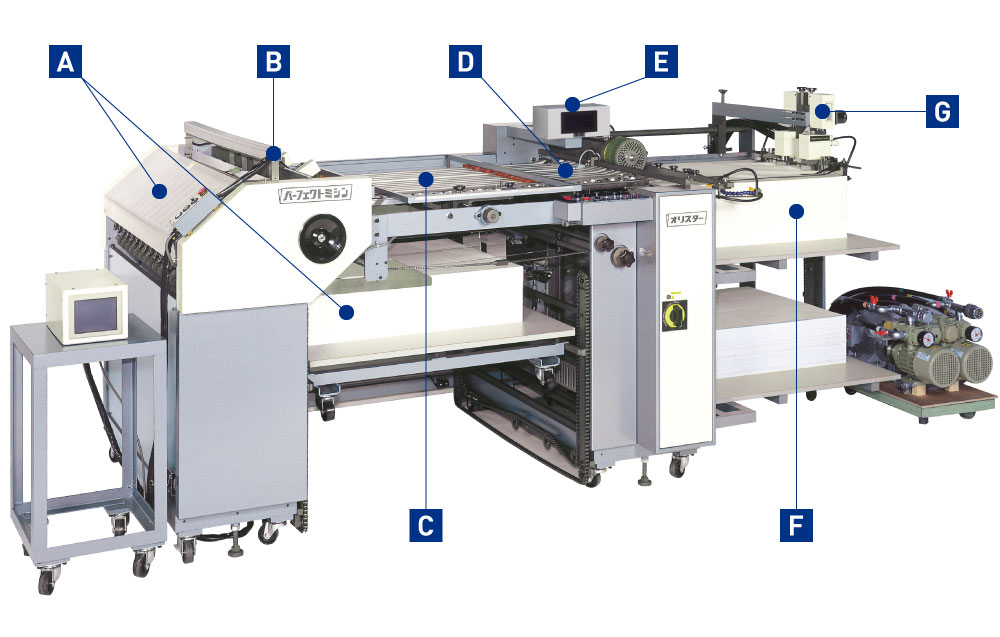 A
Fully Automated Delivery Mechanism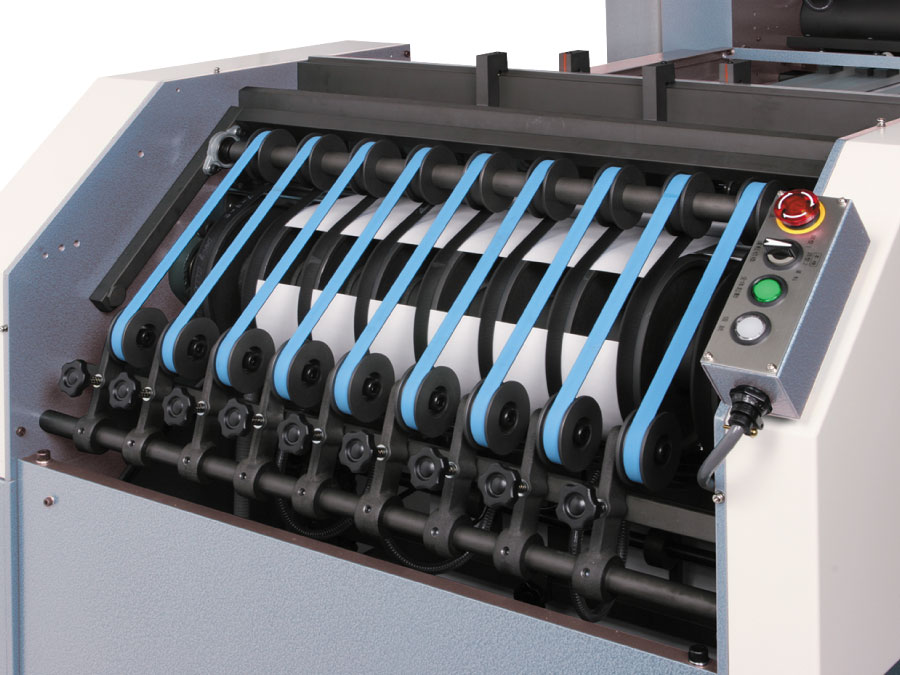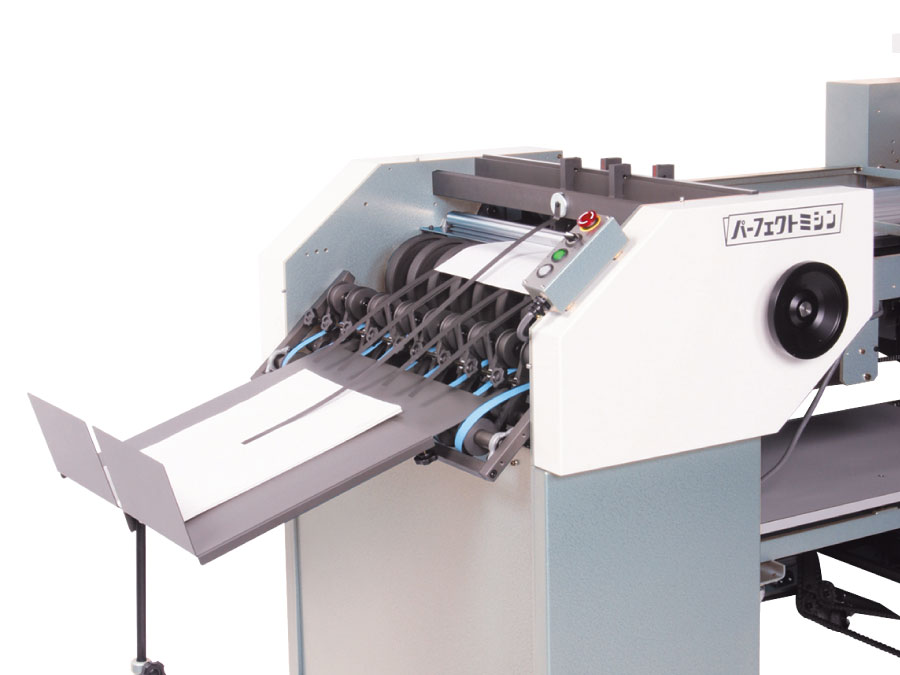 Reverser delivery is effective for numbered stock and jogging device is essential for neat delivery. Delivery table is with casters so that it' s easily rolled in and out.
Straight-out delivery is also possible for reversing numbered stock or to prevent leather covered or embossed thick stock from being cracked after scoring.
B
Perfect Scoring Device and Accurate Press-down Perf
Detachable slitter shafts ensures quick setup of top/bottom score with min. 1/4 gap. Normal perf, punch perf, slitter up to 20 different blades are adaptable.
Press-down perf and its counter roller (bottom) are of top-notch quality and high frequency hardened for long life.
Up to 50 perf holders are fitted with full variety of blade (about 25 different kinds) like normal perf, micro-cut, slitter and scorer.
C
Reliable Register Table
Lattice made of alminium minimizes static electricity and conveys solid carbon paper smoothly by less friction with sheets. It's also fully adjustable to any sheet size.
D
Double Sheet Detector
Supersonic wave mode ensures 2 sheets findings thick paper which impossible to dete.
E
Touch Panel Display Counter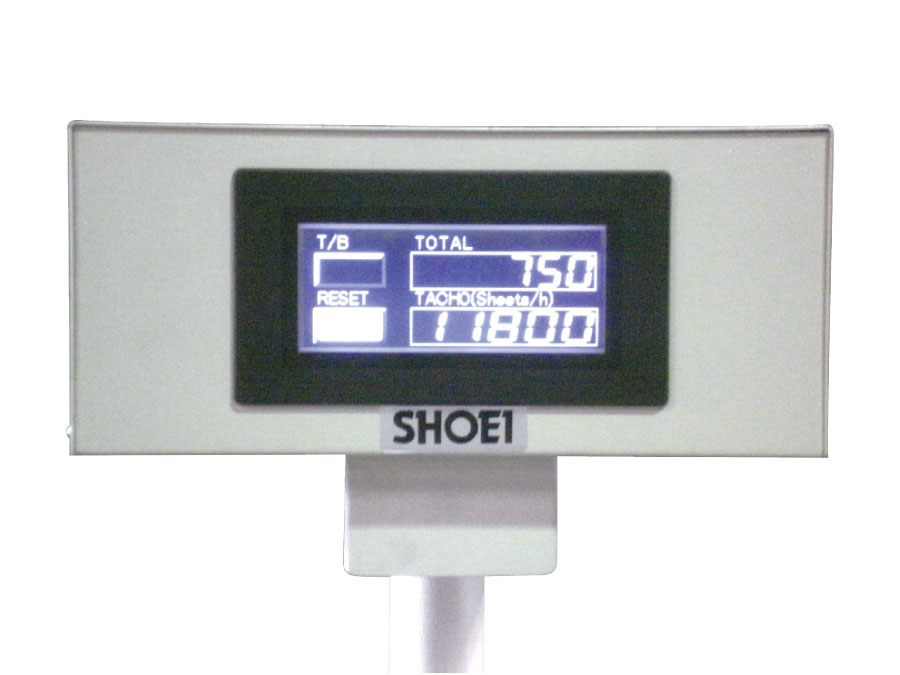 This counter, the latest type intented for attachment to medium and large size folders, accurately counts sheets and can be reset with one touch of the reset key. It displays digits large enough to be easily readable and indicates folding speed per hour concurrently with counting.
F
Mininization of Loading Time
Bottom board is for pre-loading while the machine is running. This dual board method is standard on DELUXE type while COMPACT type has a single board which goes down at 3 times speed as its asending speed.
G
High Speed, No Trouble Infeed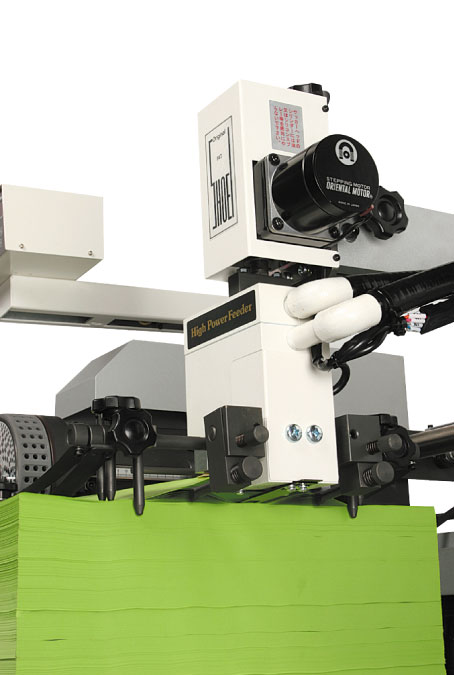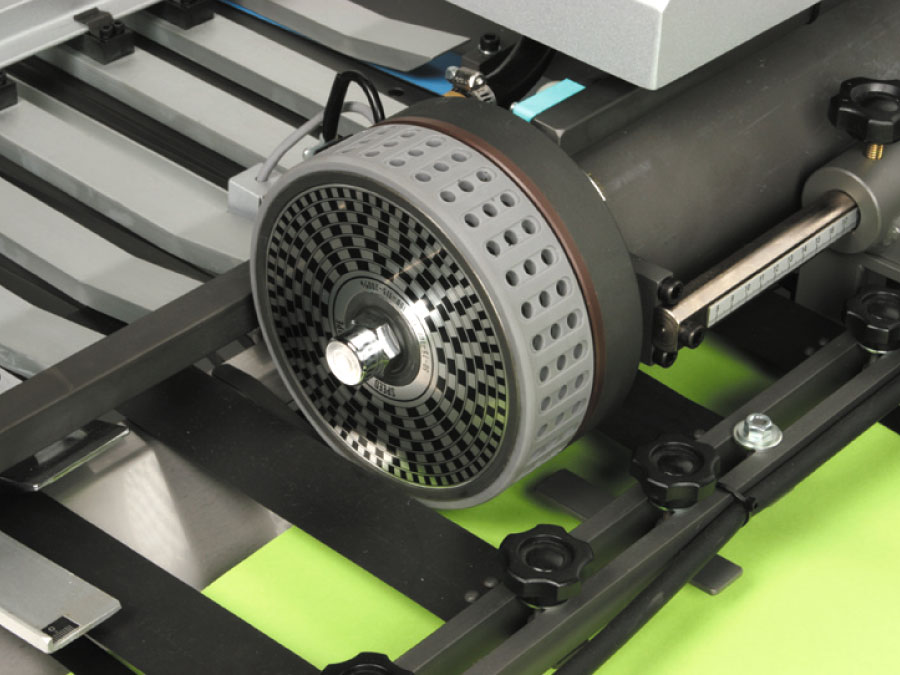 The most relable and the best requted Shoei patented high power feeder mechanism never choose any paper quality like thinnest stock, solid carbon coverage, non-carbon or thick chip board paper. Urethane coted pull-out wheel ensures nontiming high speed infeed of any stock regardless of paper thickness, size or natural up/down curl.