Mailer System
glue / perf / address/ The Full Automatic Shoei Mailor
Usage of the mailer has increased rapidly with the computerization of mail delivery.
It is being used in various industries including advertising, publications,
banks and security companies. Not only responding to the needs of this era overflowing with information,
the Shoei Mailer was developed to offer highly added value to folding.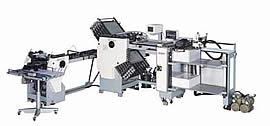 Glued and roll folded on the main unit, the flap glued and folded on the cross carrier unit.
Normal mailer producer but with no "return" card Used as a zigzag folder or an ordinary right angle folder
>> MOVIE
This device is the unit which folded sheet open with air and an arm

・ Center glue, edge glue are possible
・ Cover fold by flapper
・ Throw the sheet by hopper feeder unit and enclose is possible
・ All the sheet is drawn with a vacuum belt conveyor

| | | | | | |
| --- | --- | --- | --- | --- | --- |
| | | | | | |
| Fore-edge glue opener for mailer | | Signature 16 page glue opener | | Envelope fore-edge fold for mailer | |

It seem to finish Enclosure (Card/Postcard/Folded sheet) and Mailing and Inkjet printing at a time.
・InkJet printing
 (Address/Name/
 Bar code etc …)

・Miss glue (hot melt)
 detector with color
  CCD camera




・Flap fold by air opener
 unit

・Labeling
| | |
| --- | --- |
| | The "MAILER" combines mailing functions with printed matter and is fully automatic. The mailer is the technologically sophisticated and acclaimed machine available. "Glue application", "folding" and "addressing" by ink jet can be completed in just one procedure with the Mini Mailer. |
Seal up a Direct Mail
It can simplify by a combination with the simple model